Tea Kettles - Reviews
The Best of Tea
There are differences in styles of tea kettles and each have their plusses. One thing not to do is boil your tea in the kettle unless you are making certain herbal teas that the recipe calls for the herb to be boiled. Tea leaves become bitter quickly when boiled, so the tea-kettle is traditionally used for boiling water.
Historically, tea-kettles seem a little odd. Why not just boil the water in a pot and then transfer it to your teapot? In some countries this is still the traditional way to make tea, with water boiled in a pot on the stove.
But North American's have accepted the kettle and almost every home has one. There are several different types of kettles:
Electric Tea-Kettles
Automatic Shut off Tea-Kettles
Boil on the Stove Tea-Kettles
Electric Water Boiler
and of course, the Whistling Tea-Kettle
The Electric Water Boiler is very popular in East Asian countries. It is actually a vacuum flask with a heating element that boils water and maintains it at a constant temperature. Hot water on demand. The ater from these units is often used to dilute a concentrated tea. If you visit an Asian Tea House, you will probably see one of these units.
So why do North Americans use them, it's convenient. They are easy to pour and heat the water very quickly. There is no other reason than to save yourself a couple of minutes waiting for the water to boil.
Reviews of Popular Kettles
Stainless Tea-Kettle - Teavana
Timeless by design, the Teavana Perfect Tea-Kettle
is a superior quality 18/8 stainless steel tea kettle helps you make perfect tea. The sleek, brushed form will compliment any kitchen while providing premium functionality. The flat base promotes fast heating, while the extra large lid opening provides easy access for cleaning. Kettle is complete with a large, whistling spout that provides for easy pouring. Safe for gas, electric, ceramic and induction stovetops. Holds 2.0 liters or eight cups.Just $49.95
Perfect Temperature Tea-Kettle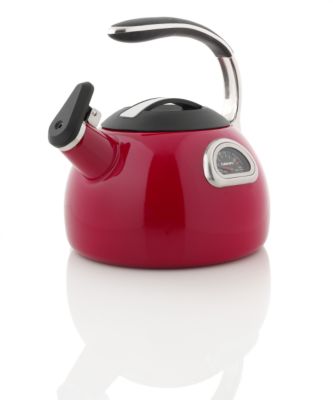 Make perfect tea with our
PerfecTemp Tea Kettle
. Featuring a precison temperature gauge, you can eliminate the guesswork and heat you water just to the right temperature each time. The gauge even has markings for each type of tea, preventing errors! Â Beautiful red kettle looks great in your home and has the other features you want: whistle when water is boiling, ergonomic handle with a silicone grip to prevent burning and a porcelain enamel exterior and interior with iron core for fast heating. This is a great tea kettle! Holds 3 quarts of water.
A Must Have
for any tea enthusiast. Just
$99.95
Return from Tea Kettles to Types of Tea Pots