Tea Boxes
Storage for Your Prized Tea
There are some fabulous Tea Boxes available on the market today to store your tea.
Traditionally, a box was used to store tea and keep it dry and fresh. The same holds true today. Wooden Tea Boxes are the most popular and traditional with bambo boxes folowing close behind.
This is a wonderful gift for any tea enthusiast or for yourself. We have reviewed and picked our favorites for you and they are below.
Wood, Bamboo & Gift Boxes for Tea
Gourmet Wooden Box for Tea
Classic Gourmet Wooden Box for Tea Storage. 5 Compartments to store your tea and keep it fresh. Made from strong durable Ironwood, this Ironwood Gourmet Tea Chest
will look beautiful on your countertop and last for years to come. Buy it Now price of $32.95.
Gourmet Bamboo Box for Tea
This is a gorgeous bamboo box for storing your fine teas. This box boasts 8 compartments and is made from beautiful bamboo to store your teas in a Traditional Bamboo Tea chest
for maximum flavor. Truly a beautiful piece, and will look great in any kitchen. Buy it now for just $22.99.
Mighty Leaf Tea Chest
Mighty Leaf Tea 30-ct. Abaca Tea Gift Box, Green
Handcrafted of tree-free Abaca plant fibers and cogon grass, our Abaca Tea Gift Boxes
make the perfect eco-friendly gift. The sustainable Abaca Tea Gift Box comes sealed with a whittled coconut-shell button. Each box comes filled with 30 of our whole leaf biodegradable tea pouches. The green Abaca Tea Chest includes the following pouches: Darjeeling Choice Estate, Orange Dulce, Green Tea Tropical, White Orchard, Chamomile Citrus, and Rainforest Maté. Truly an artisan-crafted gift for tea drinkers everywhere. Buy it now for just $24.95.
Mappa Burl Tea Chest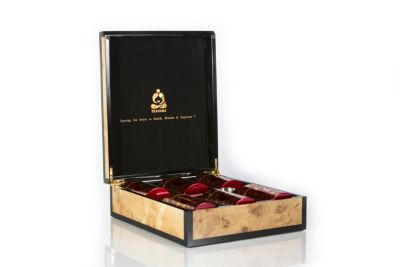 Handsome tea chest inlaid with Mappa burl wood. This
laquered chest
holds six teas and features a hinged lid with a felt lining. Chest includes six airtight Teavana Perfect Tea Tins and our premium brushed stainless steel Teavana Tea Spoon. Box is 12.75 inches by 9.5 inches by 3.25 inches. Tea sold separately.A truly stunning tea chest.
Buy it Now for $99.99
Adagio Teas
has a beautiful holiday tea chest as well. They have two options to choose from one 20 tea bag gift box and one 30 tea bag gift box. Both are gorgeous.