How I Built The Crazy For Tea Website Using Site Build It!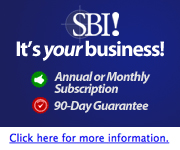 UPDATE - Crazy For Tea is in the top 1% of ALL WEBSITES - by Alexa Rating!
This page is a little story about how a company called Site Build It (also known as SBI!) helped me overcome financial fears and put me on the fast track to wealth. This is a statement from Jeremy, who originally started the Crazy for Tea Website. Much of this is his story, and I have updated parts on stats.
What I will tell you is SBI works! No if's, and's, or buts.... you just have to have a will to succeed and follow the program.
Thousands of people who have tried out SBI! have the success stories for you to read. If you have ever thought of having an income from an online source, you can not afford not to buy the SBI program.
Site Build It Stories & Case Studies
About 4 years ago Jeremy read a book that changed his life. The book was Robert Kiyosaki's "Rich Dad, Poor Dad". This book instilled knowledge in Jeremy that made him realize that if he didn't take control of his financial life today, he would live the rest of his life in what's called the "rat race". The race of never getting ahead, having to work more for more money, and not having enough money for his financial security.
Unless Jeremy took charge and started to make extra income for himself, he would never get the retirement he wanted. Bills would just keeping adding up and he would really never get "ahead" in the area of finances.
After reading this, he started looking for ways to make money. Jeremy joined a network marketing company called "Pre-Paid Legal" which is a fantastic service (I have it personally) but he wasn't exactly interested in selling it.
He then looked into starting my own off line business, making money in stocks, forex, and various other types of potential income producers.
Finally, Jeremy turned to the Internet. He figured I'm online quite a bit anyways - I might be making money from it!
Jeremy wanted to find something that could make me a few extra bucks per month, as well as give me some extra free time so he could make sure he stayed focused on maintaining my the Deans List at college.
So again he tried a few online companies, and nothing worked out. Jeremy tried a few scams, like most of us and almost gave up. I too had spent $1,000's on internet marketing programs, never again....

Jeremy found Site Build It the way I did, at my wits end that there had to be a way. I was searching for the best software to build a successful website. SBI came up time and time again.
The main theory behind SBI is C - T - P - M. It is what all websites should be based on. Providing CONTENT rich pages, that deliver free TRAFFIC, allowing you to PRESELL and that brings you to MONETIZATION of the site. It is very simple and it works.
Build a Successful Website
Check out this information on the CTPM Process.
As I researched what they offered, I found out they gave me exactly what I needed. You see, I had absolutely no experience prior to building my website. All I knew how to do on a computer was play games, talk to friends, and browse the Internet.
Long story short, Jeremy ended up buying Site Build It and so did I like 1000's of others.
Where I Am Today Thanks To Site Build It
Site Build it SUCCESS!
Crazy for Tea is about 36 months old. It has been built using the SBI program and the methods laid out by the program.
Most internet sites enjoy a drab of traffic after 36 months, Crazy for Tea enjoys over 1200 visitors a day. This is totally because of the Site Build It program and it's philosphies.
I expect in another year the site will enjoy well over 2000 visitors a day! With out Site Build It, this would not be possible. I expect in another year or so this site will bring a monthly income in the thousands.... it still blows my mind. Update - Made the goal of over $1000 per month!
Update - December 2010 Well, the Crazy For Tea website now gets 2400 visitors a day thanks to SBI! and my earnings have increase to over 1800 per month from a variety of sources. This was the BEST thing I could have done for myself - Cheers, Teya.
That's the power of Site Build It. They teach you how to build a complete website from head to toe, and most importantly, how to bring visitors. What do visitors mean? Income! There is a complete Action Guide that takes you through the entire process. So even if you have no experience with website building, you can do it!
First Time Ever - Monthly Payments
When I embraced the internet business world, I had to pay up front for Site Build It - $300 US. It was a tough decision to part with the money in hopes of bringing in an income. Well, I am glad I did it! But - the world is in a recession, additional income and disposable income are tight - so in the true SBI spirit of helping others, SBI is offering its program for a monthly subscription fee. No up front payment for the first year. This is a limited release to see how many of the new SBI'ers will stick with the program and push on to success. If it has a high drop out rate, the option will be pulled. Only you can change where you are today.
SBI websites are the most successful on the web. There are many SBI sites that earn $1000's to $10,000's per month. You can do it to! Any hobby or interest can be turned into a successful website using SBI.
Anyone with a passion can succeed with SBI BUT it is not a get rich quick scheme - if you are looking for that, I am afraid you will have to look else where. You must build your business over time - actually years to obtain success. With SBI you will have all the tools and that's what makes it unique. It is as automated as it gets. Doing much of the behind the scenes work for you.
One of my favorite SBI success stories is Tomaz's - The video below is from late 2006 and early 2007. Tomaz has since retired from teaching tennis and as of the fall of 2007 was making well over $9,000/month. This still amazes me how his two websites, one on vacums of all things and the other on tennis.
The video is Tomaz in his earlier days. You will see he is very excited about his $5xx.xx plus cheque for monthly earnings. He has since reported well over $9,000 and I am sure his in the $10,000 plus per month range now.
It didn't happen for him over night. It was progressive and he followed the Action Guide that is supplied by SBI.
I can't wait to report I am where Tomaz is now!
-
Why You Need Site Build It!
Click on the SBI Box below to visit the SBI website and check out this opportunity for yourself! You won't be disappointed and there is a money back guarantee.
If you are serious about establishing a site that earns residual income in the years to come, you can't go wrong with SBI.

In summary, Solo Build It! is an all-inclusive website builder that allows you to simply write about a topic that you are passionate about (tea in my case), and make money by doing so!
There are no add-ons, no up sells, nothing. You just buy the package and start writing. A complete Action Guide of days 1-10 is provided for you to follow. If you follow the guide, overtime you will be successful!
Right now I'm sitting on my porch with my laptop on my lap (which I bought from the money I've made from this website), no shirt on, listening to the birds chirp as the sun is starting to go behind the mountains. I can't think of a better way to make money.
I should also mention that the Solo Build It community is one of the most supportive and wonderful communities I've ever been a part of. There is always someone willing to help and even Ken Evoy makes it seem like you've known him forever - and he's the owner!
You might not want to build a website about the health benefits of tea, but I'm sure you have some kind of passion or hobby you'd love to teach others about.
But don't take my word for it. Watch the 2 minute video below and go to the website after to see that its right for you.

To visit the SBI Website and determine if this online website tool is right for you, click on the SBI Box below. There is a MONEY BACK GUARANTEE! and you won't be disappointed. If you are willing to put in the time and effort, SBI will reward you in the years to come.
Success Online -a Website That Makes $$
If you want to follow my success, by the way, I have 5 SBI sites now and there is light at the end of the tunnel! Here are links to some of my sites in progress. I am most excited about Aloe Vera Juice Benefits. This site I started with an MLM focus and top quality aloe vera products. It is a winner!! I am focusing on this site now, and encourage you to do the same - Aloe Vera is a terrific healer and preventitive and the compensation plan with this product should out earn the Crazy For Tea site in no time. You can join and become a distributor too by visiting the Aloe Vera Juice Benefits site. Aloe is an excellent niche and there is room for a few more good sites - so if your stuck on a nice - Aloe Vera just might be it.
I will update my status in 2011 - so here is to more success!!